At Old Glory Harley-Davidson® we are proud to have the fastest-growing Service Department in the mid-Atlantic area. Our family members have told us they are loyal to our Service Department because of the quality of work, timely communications, and the convenient scheduling.
QUALITY OF WORK
We have the highest quality of factory-trained technicians.
Four (4) Master Technicians
Two (2) Expert Technicians
One (1) Technician
We stand behind our service and honor all of our work. We go the extra distance and talk over all of our customer concerns with you. Our Technicians take a personal interest in our customers and can discuss your bike service with you directly.
We perform a free 19 point safety inspection with every service appointment. Service is more than just an oil change or a primary oil check.
As a franchised Harley-Davidson® dealer, we have the exclusive rights to use Digital Technician II for a proper diagnosis of Harley-Davidson® motorcycle issues. Likewise, as a franchised Harley-Davidson® dealership, we are authorized to perform factory warranty repairs and Harley-Davidson® Extended Service Plan (ESP) repairs, regardless of where you purchased your motorcycle.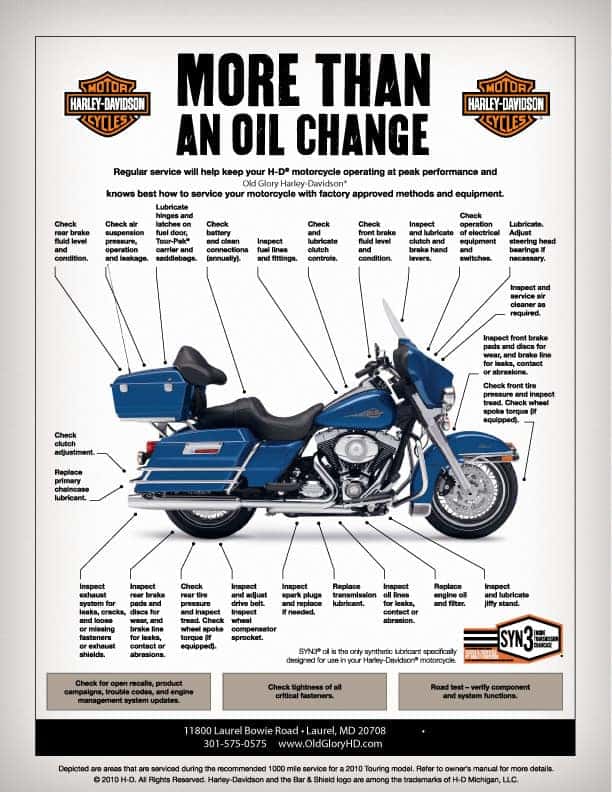 COMMUNICATION
When you check-in, one of our Service Advisors will walk around and go through the check-in process with you. They will go through any concerns, confirming the work you have scheduled, and checking for any other safety-related items. When we check you in, our computer system automatically cross-references your VIN for any other open recalls or product campaigns. While your bike is here, we will stay in constant communication with you on the status of your motorcycle.
OVERALL CONVENIENCE
We use sophisticated inventory management systems to stock the right parts and accessories for your motorcycle, which means less downtime for your bike and more ride time for you.
Need assistance getting your bike to our service department? Ask us about our free bike pick up or drop off for local customers.
Our Customer Relations Department schedules our appointments, allowing our Service Advisors to focus directly on a thorough check-in including walk-around, as well as proper follow-up while your bike is here.
The credibility of our Service Department is absolutely astounding. Specializing in stock and high-performance Harley-Davidson®, we are equipped to make your motorcycle suitable for you and your taste. We have top factory-trained technicians on duty during all business hours.
We honor all warranty work and favor any recalls. We accommodate any type of problem that may arise with your motorcycle in an efficient, precise, and timely manner.